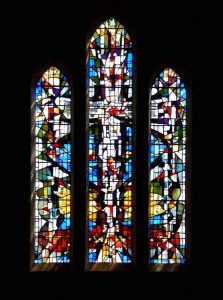 The glass was designed in 1967 by Laurence Lee ARCA, head of the department of stained glass at the Royal College of Art. Mr Lee was responsible, with two of his former students, for the stained glass windows in Coventry Cathedral. His description of what he had in mind in designing this windows is as follows:
"The cross is depicted as a 'living tree', riven by lightning and distorted by age, but still having life within itself and bursting out with new life. The concept is St Pauls' – life through death – decay and suffering transformed into resurrection and joy. This is the doctrinal aspect. Artistically there is a basic complexity in the Cross theme constrasted with simple, open shapes which might be thought of as landscape – earth, cornfields, lakes (all rather happy); or again as a butterfly's wings. The flickers of white falling from the extremeties of the Cross pass down back into the earth and rise again in the centre mass of light."
The window was described by Ian Nairn, the architect and critic, as "much the best modern glass in the county". Lawrence Stanley Lee, stained-glass artist, born 18 September 1909; died 25 April 2011 – obituary (Guardian 12May11).
The window is in memory of John Coe who once lived in Abinger Common and worshipped in this church. He is buried in the churchyard.